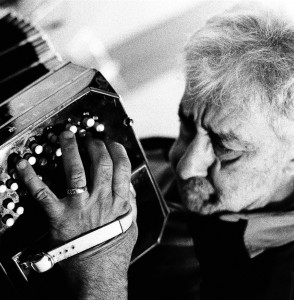 As soon as he was 17, Juan José Mosalini, bandoneonist professionnal, had worked with the greatest orchestras and solists from Argentina, in particular with Astor Piazzolla. He settled down to France where he records an album of bandoneon solo combining poetry and virtuosity. He funded in 1982 the really famous trio "Mosalini – Beytelmann – Caratini" (bandoneon / piano / double bass) who was on tour in every continents and back on tour 20 years later. Juan José Mosalini creates The Big Orchestra of Tango with whom he will be on stage all over the world and will present two albums. His passion for music brings him along to be closer to the classical musicians, then, Juan José Mosalini will be on tour with diferents orchestras from France and Europe. During the Festival "Buenos Aires Tango", Juan José Mosalini had been proclaiming by his work of diffusion of the argentinian music in the whole world.
The Quatuor Benaïm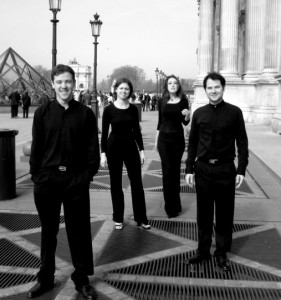 Founded in september 2000 by four young soloists, The Benaïm String Quartet has been supported since its debut by two french foundations : Pro Quartet and AJAM which sponsored to a large extent working sessions with some of the most famous teachers , including Walter Levin, with whom the Benaïm String Quartet achieved a postgraduate course in 2003. They came to international attention when, the following year, they won a HighPrize in ARD International String Quartet Competition in Munich. Since then they have toured extensively in France, Germany, Spain , Austria , Swiss, Israel and The United States. Eager to share musical experiences, the Benaïm String Quartet collaborates regularly with many great artists such as Gerard Poulet, Maurice Bourgue Anne Queffelec, Julius Berger, Pascal Dusapin and Sofia Goubaïdoulina.
Gustavo Beytelmann
When the argentinian Gustavo Beytelmann starts his carrer, he had been the musical director of a label in Buenos Aires and had composed about forty movies'music; he will goes on in Paris for the french cinema, the italian one and also the german one. In Paris, Gustavo Beytelmann has a carreer as compositor and pianist in particular with Piazzolla. He has created with Caratini and Mosalini a trio Piano – Bandoneon – Double bass whose, during more than ten years, will be on european and american stages. Since 1996, he's the Art Director of Tango Department in the Conservatoire of Rotterdam. In 2002, he has been invited by American Universites of Seattle and Bellingham. Gustavo Beytelmann has been realising some creations for different orchestras since 2003. In 2004, he came back to Argentina where his new album has been out. When he returns to France, he follows his carreer as compositor.